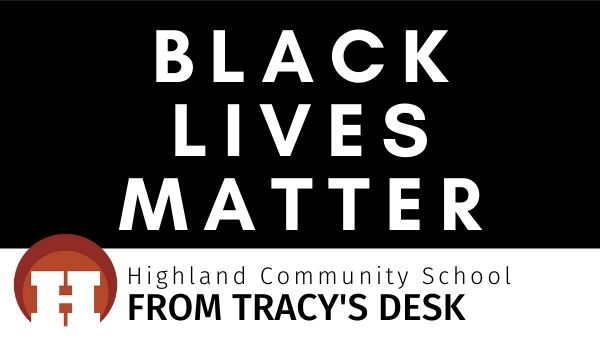 June 3, 2020 
My Dear Highland Family,
I come to you today with a heavy heart. The deaths of Ahmaud Arbery, Breonna Taylor, George Floyd, and now most recently David McAtee have pulled at every fiber of my being. I've struggled for the words strong enough to convey the hurt and anger I feel over their deaths, and the fear I have as a Black mother for my own children.
As a mother and school leader, I grieve for the loss of their lives and for the loss of many more that will inevitably come unless something is done. The racial divide in this nation is profound and woven in our history, like a weed that has taken hold and strangles the root of the most beautiful flowers. I grieve for our Black sons, daughters, husbands, uncles, brothers, and students and wonder what it is going to take to make us whole.
I struggle to reassure our community that everything will be okay, and as a leader who is full of fear, despair, and looking for hope, I don't know if I can.
What I do know is that this community of people at Highland gives me hope.
I find hope in the faces of your children. I find hope in the extra mile the teachers go to give their students a sense of normalcy by holding Zoom classroom meetings, graduations, talent shows, and read-alouds. I find hope in our community's parents who protest for Black lives and fight for a fairer, more just tomorrow. I'm proud to be a part of such a beautiful community of past and present Highland students and families working to make this world a better place.
Highland was founded on the belief that fighting for social justice, better schools, and better housing were the right for everyone. Those founding values inform our actions as we continue this fight.
We are fighting for our lives. We are fighting for the lives of our children. We are in this together, and we will continue to fight for what is right until mothers like me don't have to fear for the safety of their husbands and sons when they encounter law enforcement. And when I myself don't have to fear being pulled over.
I don't know when that day will come, but I know that I can't give up hope. We can't look into the faces of our children and give up trying to fight for a better future for them.
Below you can see how Highland continues its commitment to social justice by including it in our strategic plan. We strive to change the world.
As the African proverb says, "the child who is not embraced by the village will burn it down to feel its warmth."
Stay safe and love one another,
Tracy Williams, Executive Director
#wedoitforhighland        #BLACKLIVESMATTER
Last summer, Highland's Board of Directors, faculty, staff, and students produced a three-year strategic plan that focuses on five main goals. Two of those goals are focused on increasing our cultural awareness and practice of social justice. As a community, we will do the following:
Teach and practice social justice as a core component of classroom lessons, co-curricular life, and students' experience by:

having a shared understanding of what social justice means at Highland,
including the theme of social justice in key Montessori lessons and experiences,
using culturally relevant instruction and classroom materials, and
ensuring diversity and equity in student recruitment at all levels, so the diversity of the Highland community reflects the diversity of the external community.

Value and celebrate all members of the Highland community – students, staff members, family members, alumni, and external community members – as equal and integral partners in our mission and services.
We invite you to join us in this work. On our Facebook Page, you will find any upcoming marches and events that are family-friendly. Please post any marches or events on our page too or email them to Ms. Michaela.