Parent Board of Directors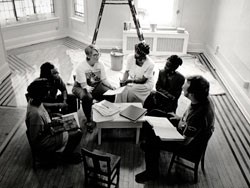 Highland is governed by a ten-member parent Board of Directors elected from the current body of parents. The parent Board has full legal responsibility for all decisions relating to the operation of the school.  It sets and monitors the budget, makes and amends all school policies, hires and fires the director, and, in conjunction with the teachers, supports the curriculum. Highland's experience demonstrates that parent governance of a school can be a critical factor in building school effectiveness.  It is the ultimate parent involvement strategy.
If you are a parent at Highland and interested in becoming a board member, please contact Nick Petty, Board President.
Current Parent Board of Directors
Nick Petty
President
Nick Petty has practiced law in Milwaukee since 2003, when he received his J.D. from Marquette University. He and his family are dedicated to the people and city of Milwaukee. Mindful that the future of our city depends on the education of its children, the Pettys embrace Highland Community School. They were drawn to Highland's unique history and vision, and are fulfilled to be a part of it.
Sherita Greer
Vice President
Sherita Greer is a Milwaukee native and Highland Community School parent of 2 children. She works as a commercial lending professional for US Bank. Sherita is a Marquette University graduate, who is a dedicated and optimistic, young professional. One of Sherita's most notable accomplishments includes the completion of the Danskin Triathlon. With a passion for health and wellness, Sherita enjoys cooking and lively fitness activities. She has traveled to various countries and believes that these voyages have given her a true appreciation and understanding of cultural diversity. Sherita has served on the Highland Board of Directors since July, 2013.
Trent Kielley
Secretary
Trent Kielley is an Application Packager at Aurora Health Care. Trent works with area Aurora hospitals and clinics to install software needed for patient care by doctors, nurses and surgeons. Trent and his wife, Ina, are both Milwaukee area natives. A Highland parent since 2009 and a Board Member since July, 2013, Trent now has two children at Highland.
Marilyn Wiseman
Treasurer
Marilyn Wiseman is the parent of two children, Eleanor and Wesley. She is a consultant, working with progressive nonprofits on policy strategies and building organizational capacity. Marilyn has previously served on several boards for non- profit organizations, including the Urban Ecology Center, Community Shares of Greater Milwaukee and Milwaukee Environmental Consortium. Marilyn has a B.S. in Finance and Master's Degree in Public Administration from the University of Wisconsin- Milwaukee.
Kyle Ashley
Director
Kyle Ashley is a parent to two children at HCS and has been a member of the Highland community since 2011.  He is the youth program coordinator at Wisconsin Regional Training Partnership/BIG STEP and has been in the field of social work and career development for over 10 years.  He has served on the HCS parent board for 2 years.   He is dedicated to the city of Milwaukee where he was raised and believes the students of Highland will soon become leaders of the community and fulfill all that is encompassed in the schools mission statement.
Terisa Folaran
Director
Terisa Folaron is a principal of a K4-8 school in the private sector. She has worked as a public school Montessori teacher, literacy coach, curriculum writer and school administrator for the past 15 years. She has an MA in Professional Development and an MA in Administrative Leadership. She has experience with crafting district and school improvement plans, teacher evaluations, and has presented at AMI and AMS conferences. She views education as a social justice issue, and chose HCS in 2013 because of its diversity and social justice mission. One of her notable accomplishments is her contributions to TED-Ed garnering over 1 million views.
Nakia Gordon
Director
Dr. Nakia S. Gordon, Assistant Professor of psychology at Marquette University has been a parent at Highland Community School since 2009. She began serving on the Board of Directors in July 2010 and has served as Board President since July, 2013. Prior to moving to Milwaukee, Nakia and her family lived in Charlotte, North Carolina where she served on the board of the Charlotte Area Science Network.
Brooke Haley
Director
Brooke Haley has been teaching  English and academic skills to international students and immigrants in Milwaukee since 2000 when she received her M.A. in Foreign Language and Linguistics .   Brooke has been a Highland parent since 2007 and has served on the Highland Parent Board of Directors as a director, secretary and vice-president since beginning her service in 2009.   Brooke chose Highland Community School for her children not only because she values the academic and life-skills that her children receive in its quality Montessori program but also because of its mission to build a sense of community, intellectual curiosity and social responsibility for both the children and the parents. 
Gerald McGregory
Director
Gerald McGregory is the Youth Sports Manager for Milwaukee Public Schools (MPS) Recreation.  Gerald works with all elementary and middles schools to provide school based sports during the school year.  He is very passionate about sports and working with youth.  Gerald and his wife have a daughter that attends Highland since 2014.  He has recently joined the Board of Directors in January, 2017. 
Sharlen Moore
Director
Sharlen Moore has committed her life to building and sustaining grassroots leadership for change. She currently serves as Executive Director of Urban Underground, located in Milwaukee, Wisconsin. A native of Montego Bay Jamaica, Sharlen immigrated to the United States with her family at the age of 6. Her commitment to youth was shaped by her early experiences with racial and economic injustice in Milwaukee. A parent of 3 Highland students, Sharlen has served on the Board of Directors since July, 2007.
Jennifer Raymond
Director
Jennifer Raymond has been a Highland parent since 2012. She currently has two children at Highland, Edwin (7) and Eowyn (4). Jennifer earned her undergraduate degree from University of Wisconsin- Stevens Point with a double major in Communications and Spanish. She also earned her master's degree in Curriculum and Instruction from UW-Milwaukee. She currently holds the title of Senior Director of Academic Coaching with the Boys & Girls Clubs of Greater Milwaukee.