Parent Board of Directors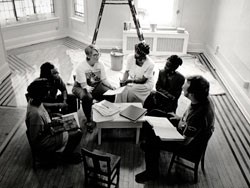 Highland Community School is governed by a parent Board of Directors elected from the current body of parents. The Parent Board has legal responsibility for decisions relating to the operation of the school. It sets and monitors the budget, makes and amends school policies, manages the director, and, in conjunction with the teachers, supports the curriculum. Highland's experience demonstrates that parent governance of a school can be a critical factor in building school effectiveness. It is the ultimate parent involvement strategy.
If you are interested in serving on the Board of Directors:
Get involved at Highland by volunteering, serving on a parent committee, helping out in a classroom, chaperoning going-outs, etc. Active involvement in the school is preferred prior to Board service.

Talk to one of the current Board Member.

Watch this page for the application due date in March of 2020.
The Board Governance Committee solicits applicants annually and as deemed necessary as seats on the Board open up. The Board Governance Committee then reviews applications and recommends candidates to the full Board for nomination. Recommendations are made based on the needs of the Board.
Please read about the Roles and Responsibilities of Highland Community School's Board of Directors for more information about serving on the Highland Parent Board of Directors.
If you are a parent at Highland and are interested in becoming a board member, please contact Sherita Greer, Governance Committee Chair, with questions.
If you'd like to get in touch with the Parent Board, please email highlandcommunitybod@gmail.com
Current Parent Board of Directors
Leana Nakielski
President
Leana Nakielski is the Development Director of the Greater Milwaukee Committee. She works closely with the GMC president, team, members and community partners to identify and attract valuable resources in support of the GMC's initiatives that advance economic prosperity, talent and innovation, and the vibrancy of
place
.
Prior to joining the GMC, Leana served as the director of operations at the Hispanic Chamber of Commerce of Wisconsin in Milwaukee and previously as the director of community resources at Highland Community School, where her three children attend. Before launching the development program at Highland over three years, Leana worked for the urban agricultural non-profit Growing Power for nearly a decade (2003-2013) in various roles, from intern to Latino Community Liaison to Development Manager from 2008-2013. Leana is passionate about social justice as it relates to the food system, economics, and the environment, including aspects such as labor, energy consumption, health, education, and community development. Her professional experience coupled with her B.S. in International Agriculture and Natural Resources (Agriculture & Applied Economics emphasis) and executive MBA in progress, both from the UW-Madison has provided Leana with a diverse yet solid foundation of knowledge and experience in community development, including sustainable food systems development, personal and public health, education, workforce development, and business development.
Leana serves on the board of directors for the Urban Ecology Center and the Southeastern WI Watersheds Trust. She is a member of the Community Action Council, Institute for Urban Agriculture & Nutrition, and a mentor in the UW-Milwaukee Institute for Urban Education. Leana has served on the board of directors for the Center for Resilient Cities, the steering committee of the Milwaukee Food Council, and was a former member of the Rotary Club Amigos de Milwaukee.
Sherita Greer
Vice President
Sherita Greer is a Milwaukee native and Highland Community School parent of 2 children. She works as a commercial lending professional for US Bank. Sherita is a Marquette University graduate, who is a dedicated and optimistic, young professional. One of Sherita's most notable accomplishments includes the completion of the Danskin Triathlon. With a passion for health and wellness, Sherita enjoys cooking and lively fitness activities. She has traveled to various countries and believes that these voyages have given her a true appreciation and understanding of cultural diversity. Sherita has served on the Highland Board of Directors since July, 2013.
Marilyn Wiseman
Treasurer
Marilyn Wiseman is the parent of two children, Eleanor and Wesley. She is a consultant, working with progressive nonprofits on policy strategies and building organizational capacity. Marilyn has previously served on several boards for non- profit organizations, including the Urban Ecology Center, Community Shares of Greater Milwaukee and Milwaukee Environmental Consortium. Marilyn has a B.S. in Finance and Master's Degree in Public Administration from the University of Wisconsin- Milwaukee.
Brooke Haley
Director
Brooke Haley has been teaching English and academic skills to international students and immigrants in Milwaukee since 2000 when she received her M.A. in Foreign Language and Linguistics . Brooke has been a Highland parent since 2007 and has served on the Highland Parent Board of Directors as a director, secretary and vice-president since beginning her service in 2009. Brooke chose Highland Community School for her children not only because she values the academic and life-skills that her children receive in its quality Montessori program but also because of its mission to build a sense of community, intellectual curiosity and social responsibility for both the children and the parents.
Rochelle Johnson-Bent
Director
Kate McChrystal
Director
My parents' motto growing up was "Only boring people get bored." For good or bad, I've carried those words with me and that has resulted in a very busy life! I am a business owner, family law attorney, regular volunteer at the Marquette Volunteer Legal Clinic and Milwaukee Justice Center, avid fundraiser for Meta House, ARCW and the ACLU, the 2017 honoree of The Howard J. Eisenberg Public Service Award and, most importantly, mom to 4 year-old Finley (Ms. Carrie's class) and wife to Jake Manian (who is also an attorney and passionate volunteer). When Jake and I were exploring schools for Finn, our primary goal was to find a close-knit, diverse and nurturing school community. We are so fortunate to be part of all of that and more here at Highland! We truly feel that we found the perfect school for our daughter and our family. The opportunity to grow the school's mission is what attracts me to the HCS board. I'm excited about the opportunity to continue ensuring HCS exceeds our children's needs each day while exploring new opportunities and establishing Highland's success far into the future. I want our kids,
faculty
and staff to be happy and fulfilled on a daily basis and I want them, years from now, to see the school that they loved continuing to thrive. I have a background in board work with AIDS Resource Center of Wisconsin (ARCW) where I was a founding member and past president of the ARCW Junior Board and a member of the Development Committee. I believe that my experience there and my passion for HCS would be an asset to our school's board.
Sharlen Moore
Director
Sharlen Moore has committed her life to building and sustaining grassroots leadership for change. She currently serves as Executive Director of Urban Underground, located in Milwaukee, Wisconsin. A native of Montego Bay Jamaica, Sharlen immigrated to the United States with her family at the age of 6. Her commitment to youth was shaped by her early experiences with racial and economic injustice in Milwaukee. A parent of 3 Highland students, Sharlen has served on the Board of Directors since July, 2007.
Amy Nelson Christensen
Director
Jennifer Raymond
Director
Jennifer Raymond has been a Highland parent since 2012. She currently has two children at Highland, Edwin (7) and Eowyn (4). Jennifer earned her undergraduate degree from University of Wisconsin- Stevens Point with a double major in Communications and Spanish. She also earned her master's degree in Curriculum and Instruction from UW-Milwaukee. She currently holds the title of Senior Director of Academic Coaching with the Boys & Girls Clubs of Greater Milwaukee.