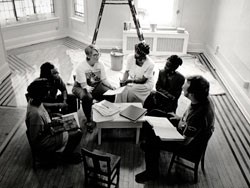 Brian Litzsey
President
Number of Children at Highland:
Two
Year Joined Highland Family: 2012
Year Board Term Began: August 2019
Professional Background: Brian is the Manager of Operations/Assistant Director for the Milwaukee Public Schools Department of Recreation and Community Services. Brian holds a B.S. in Parks and Recreation Administration, M.S. in Physical Education, and a M.B.A. Over the past 19 years, Brian has served in various positions within the Department of Recreation. As Manager of Operations, his chief responsibilities are oversight of the Department's Finances, Facilities, Technology, After-School Operations, and Human Resources. Brian has helped foster countless collaborations with many of Milwaukee's community-based organizations, leading to greater financial and human capital resources in many under-served neighborhoods. Brian is a committed advocate for equal access to high-quality enrichment and educational opportunities for all Milwaukee residents.
Rochelle Johnson-Bent
Vice President
Number of Children at Highland:
Two
Year Joined Highland Family: September 2018
Year Board Term Began: August 2019
Professional Background: Rochelle, a born and raised Milwaukeean, currently works as a Risk Management/Contract Law Specialist for Milwaukee Public Schools. Prior to joining MPS, Rochelle was the Director of Compliance for Boys & Girls Clubs of Greater Milwaukee, Supervising Attorney for Legal Aid Society of Milwaukee Guardian ad Litem Family Division, and worked in the private legal sector practicing in the areas of family, criminal, civil, and administrative law. Thus, Rochelle has made it her goal to create a legal career that not only allows her to work in areas of law that she finds interesting, but doing work that helps her improve the community in which she lives and raises her family. Outside of work, Rochelle also serves as a Board of Director for District 2 for the State Bar of Wisconsin since 2018. Her professional associations also include the Family Law Section, Society of Corporation Compliance & Ethics, Young Lawyers Division, and the WI Association of African American Lawyers. Rochelle is also a proud member of Epsilon Kappa Omega Chapter of Alpha Kappa Alpha Sorority, Inc. Beyond Rochelle's professional and community involvement, she is the blessed mother of two Highland students, Seanna and Winston. Rochelle ran and serves on the Highland Board to bring her legal expertise, creative thinking, and dedication to continued improvement for diversity and inclusion for all.
Melissa Gibson
Secretary
Number of Children at Highland:
Two
Year Joined Highland Family: 2015
Year Board Term Began: 2020
Professional Background: Melissa is a researcher of educational justice and equity, a teacher educator, and a former classroom teacher. Currently, she works in Marquette University's College of Education as an assistant professor in the Department of Educational Policy & Leadership. She has a B.A. in Women's Studies from Harvard University, an M.A. in Teaching from Dominican University, and Ph.D. in Curriculum & Instruction and Educational Policy from the University of Wisconsin Madison. She is a licensed teacher in Wisconsin and Illinois. She joined the HCS parent Board of Directors to use her professional expertise in the service of a community that her family loves. She is committed to ensuring Highland continues to live out its mission of racial, environmental, and educational justice at both the macro level and in the day‐to‐day life of students and teachers. She currently has two thriving children enrolled in the school.
Devon Pittman
Treasurer
Professional Background: Devon is a Tax Analyst with Jeffrey Morse & Associates and earned her MBA in 2017. She has served the Highland Finance Committee for almost two years and welcomes governance and leadership role at Highland to contribute her skills. For the past decade, Devon has been working in taxes and real estate. With two school‐age children, her children's education and Highland Community School's presence in their lives is of the utmost importance and a current priority. The success of the school is critical to Devon, and board service helps achieve
that goal.
Sheena Adams
Director
Number of Children at Highland:
2 (One Graduate)
Year Joined Highland Family: 2010
Year Board Term Began: August 2020
Professional Background: Sheena is a dedicated business owner who was born and raised in Milwaukee and believes in the value of uplifting the community by supporting women and minority‐owned small businesses. She earned a B.S. in Business Administration from Marquette University and an MBA from Concordia University in Wisconsin. Sheena has held various corporate leadership positions with General Electric (GE), Harley‐Davison, and Kohl's Corporation. Her leadership style is based on servant leadership principles, which focus on enriching individuals' lives, building better organizations, and creating a more just and caring world. A strong advocate of Montessori education, her two children attend Highland in a building, she is all too familiar with as a MacDowell Montessori graduate a few decades ago.
Jason Evans
Director
Number of Children at Highland:
Four
Year Joined Highland Family: 2012
Year Board Term Began: August 2021
Professional Background: Jason Evans is a strategic marketing advisor to executive teams – helping leaders make more effective decisions in digital transformation, brand modernization, customer experience strategy, integrated marketing communications, and more. In his current role as Principal of Evans&Co., Jason serves as fractional Chief Marketing Officer for a number of growing industrial firms. With a career spanning more than 20 years in leadership roles at creative agencies, digital marketing firms, and management consulting firms, Jason brings a passion for clear and compelling communications, collaborative problem solving, and building strong and healthy teams. Furthermore, he has served on a number of professional advisory boards, including as a member of a Vistage Executive Roundtable, as well as industry advisor for both the Eisner Museum of Advertising and MATC Visual Communications program. He was also an adjunct instructor at University of Wisconsin Milwaukee in the digital design program.
Tresca Meiling
Director
Number of Children at Highland: Two
Year Joined Highland Family: 2018
Year Board Term Began: August 2020
Tresca serves as Development Director at Milwaukee Academy of Science and has been a committed educator as a teacher, administrator, and fundraiser for her entire career. Serving on the Highland Board is an opportunity to work with parents to carry out the school's shared vision. She enjoys problem‐solving, strategic thinking, collaboration, and fundraising. These skills are very much needed as we launch a capital campaign for a new addition in 2021.  Her goal is to contribute to Highland's future and continue its legacy for all students, including her own children, Samara who is in K5 and Brendan who will start in the fall.
Carla Muñoz
Director
Number of Children at Highland:
One
Year Joined Highland Family: 2019
Year Board Term Began: August 2020
Carla is a Certified Trust Fiduciary Advisor and is currently a Senior Trust Officer at Capital First Trust. She has served different community organization boards as Philanthropy chair and as part of the Grant Advisory Committee for the Women's Fund of Greater Milwaukee. As a dedicated community member, she continues to look for ways to get involved and contribute. Carla has one toddler entering the pre-k program and joined the Highland Community School board in August 2020.
Amy Nelson Christensen
Director
Number of Children at Highland:
Two
Year Joined Highland Family: Fall 2014
Year Board Term Began: August 2019
Professional Background: Amy is a nationally certified and licensed school psychologist in the state of Wisconsin. She is currently a professor in the school psychology program at Loyola University Chicago where she works with the next generation of school psychologists on how to practice from a social justice lens. She also serves as the Chair of the University's Anti-Racism Initiative to implement strategic institutional change towards racial justice. Prior to teaching, Amy worked for Milwaukee Public Schools as a school psychologist and researcher, supporting district-wide efforts in trauma sensitive school practices, equity, and improving school culture and climate. As a result of her efforts to establish trauma sensitive practices across the district, Amy was awarded School Psychologist of the Year in the state of Wisconsin in 2015. Amy also currently consults with schools and community non-profit organizations across the city of Milwaukee on equitable systems change and program evaluation focused on improving the lives and educational trajectories of children in the city.