Parent Board of Directors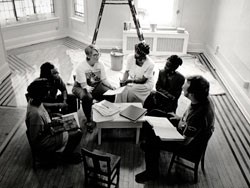 Highland Community School is governed by a parent Board of Directors elected from the current body of parents. The Parent Board has legal responsibility for decisions relating to the operation of the school.  It sets and monitors the budget, makes and amends school policies, manages the director, and, in conjunction with the teachers, supports the curriculum. Highland's experience demonstrates that parent governance of a school can be a critical factor in building school effectiveness.  It is the ultimate parent involvement strategy.
Meetings from previous board meetings can be found here. 
If you are interested in serving on the Board of Directors, the application process is as follows:
Get involved at Highland by volunteering, serving on a parent committee, helping out in a classroom, chaperoning going-outs, etc. Active involvement in the school is preferred prior to Board service.

Complete an application found here.
Complete a personality test and submit results with your application. 

Reach out to two current board members.

Be elected at the Annual Meeting.
The Board Governance Committee solicits applicants annually and as deemed necessary as seats on the Board open up. The Board Governance Committee then reviews applications and recommends candidates to the full Board for nomination. Recommendations are made based on the needs of the Board.
Please read about the Roles and Responsibilities of Highland Community School's Board of Directors for more information about serving on the Highland Parent Board of Directors. 
If you are a parent at Highland and are interested in becoming a board member, please contact Sherita Greer, Governance Committee Chair, with questions.
If you'd like to get in touch with the Parent Board, please email highlandcommunitybod@gmail.com
Current Parent Board of Directors
Leana Nakielski
President
Number of Children at Highland: Three Year Joined Highland Family: Fall 2008 Year Board Term Began: August 2017 Professional Background: Leana is a Strategic Partnerships Director with American Family Insurance. She is leading on the set up of the Milwaukee corporate office and has a team dedicated to forming strategic partnerships with Milwaukee's educational/talent organizations to help develop a diverse and tech talent pipeline, building the enterprise's future workforce. Prior to working with American Family Insurance, she was in the non-profit sector for 16 years having most recently served as the Greater Milwaukee Committee's first Development Director. Prior to that she was the Operations Director with the Hispanic Chamber of Commerce of Wisconsin following a role with Highland Community School as the first Community Resources Development Director. Her first ten years of work in Milwaukee was with Growing Power with a 2-year assignment at the Sixteenth Street Community Health Center as a Bilingual Nutrition educator. Leana is deeply involved in the community, serving on the board of directors with the Urban Ecology Center and the Milwaukee Parks Foundation. She is a member of Professional Dimensions, TEMPO, and the Hispanic Professionals of Greater Milwaukee. In 2017, Milwaukee Magazine featured Leana as a "Visionary Leader," in 2018 she received the "Rising Leader" award from HPGM, and is a 2020 Milwaukee Business Journal 40 Under 40 honoree.
"Honestly, back in 2008 when I was looking to enroll my oldest son in school, I did not know about Montessori education. At the time, I was a single mom, trying to make it on a non-profit salary. I had many other things to think about. I only lived a few blocks from Highland (then it was farther west on Highland Blvd), but did not even know the school existed until a good friend of mine, who also lived in the neighborhood, pointed it out. She had a daughter there who was one year older than my son, Emiliano. She spoke highly of the parent involvement, the community aspect, the diversity, and the authentic relationships she had with teachers, staff, and other parents. One day I decided to walk over and check it out. The school day had just let out and parents were arriving for pick up. There were almost just as many parents on the playground as kids. They stood around chatting it up in circles as the kids played. I watched how kids and adults interacted: with courtesy, respect, comfort, trust, and a real sense of love. I saw genuine acts of kindness, friendship, and real interest between diverse people. I hadn't even entered the school and I already knew, this was where my little family belonged. Since then, I have learned so much about Montessori education. I love the vision to foster world peace by developing compassionate, global citizens who are empowered to learn, advocate for themselves, yet feel a true sense of commitment to community. As a first generation Latina (my mother's side), I value that Montessori has an international perspective and deep commitment social justice."
Sherita Greer
Vice President
Number of Children at Highland: Two Year Joined Highland Family: Year Board Term Began: July 20103 Professional Background: Sherita is a Milwaukee native. She works as a commercial lending professional for US Bank. Sherita is a Marquette University graduate, who is a dedicated and optimistic, young professional. One of Sherita's most notable accomplishments includes the completion of the Danskin Triathlon. With a passion for health and wellness, Sherita enjoys cooking and lively fitness activities. She has traveled to various countries and believes that these voyages have given her a true appreciation and understanding of cultural diversity.
Jennifer Raymond
Secretary
Number of Children at Highland: Two Year Joined Highland Family: Fall 2012 Year Board Term Began: August 2016 Professional Background: Jennifer holds a 1st-8th teaching license with a bilingual certification and a special education license. She also has a master's degree in curriculum and instruction from UW-Milwaukee. She taught in Milwaukee Public Schools for 12 years prior to taking her current position as the Senior Director of Academic Coaching with a focus on literacy for Boys & Girls Clubs of Greater Milwaukee, which is Milwaukee's largest youth serving agency.
"My husband and I are both educators and we knew that the traditional classroom in so many of the schools where we were teaching was not the right environment for our oldest child. We started doing our research and found out about Montessori education. We visited a few Montessori schools and got on a few waiting lists. Luckily, we were offered a position at Highland, and fell in love. We absolutely love the diversity of the students and the staff. We believe that Highland reflects the diversity of our city in many different ways and that is the environment that we want our children to grow up in. We also love the feeling of community that is fostered at Highland."
Marilyn Wiseman
Treasurer
Number of Children at Highland:
One
Year Joined Highland Family:
Year Board Term Began:
Professional Background:
Marilyn is the parent of two children, Eleanor and Wesley. She is a consultant, working with progressive nonprofits on policy strategies and building organizational capacity. Marilyn has previously served on several boards for non- profit organizations, including the Urban Ecology Center, Community Shares of Greater Milwaukee and Milwaukee Environmental Consortium. Marilyn has a B.S. in Finance and Master's Degree in Public Administration from the University of Wisconsin- Milwaukee.
Brooke Haley
Director
Number of Children at Highland: One & one graduate Year Joined Highland Family: Fall 2007 Year Board Term Began: August 2009 Professional Background: Brooke Haley has been teaching English and academic skills to international students and immigrants in Milwaukee since 2000 when she received her M.A. in Foreign Language and Linguistics. Brooke has been a Highland parent since 2007 and has served on the Highland Parent Board of Directors as a director, secretary and vice-president since beginning her service in 2009. Brooke chose Highland Community School for her children not only because she values the academic and life-skills that her children receive in its quality Montessori program but also because of its mission to build a sense of community, intellectual curiosity and social responsibility for both the children and the parents.
Rochelle Johnson-Bent
Director
Number of Children at Highland: Two Year Joined Highland Family: September 2018 Year Board Term Began: August 2019 Professional Background: Rochelle, born and raised in Milwaukee, has dedicated herself to her community through work and volunteerism. Being the Director of Compliance for Boys & Girls Clubs of Greater Milwaukee (BGCGM), Rochelle's role is to lead the nation's largest Boys & Girls Clubs' bifurcated legal affairs and compliance/ethics department. Prior to joining BGCGM, Rochelle was the Supervising Attorney at Legal Aid Society of Milwaukee's Guardian ad Litem's Family Court Division. She has also worked in the private sector in areas of law including family, criminal, civil, and administrative law. Being appointed in 2018 by the Wisconsin State Bar and then elected by her peers in April 2019, Rochelle serves as Board of Governor for District 2 (Milwaukee). In addition to serving on the Board, Rochelle is a member of the following professional organizations: Family Law Section of the Wisconsin State Bar, Society of Corporate Compliance & Ethics, Young Lawyers Division, WI Association of African American Lawyers, and the Epsilon Kappa Omega Chapter of Alpha Kappa Alpha Sorority, Inc. Rochelle has volunteered at the Fiserv Forum, participated in various general parent meetings and donated supplies. As a newer parent Rochelle brings new innovative insight and thoughts on how to increase the "community" feel for new parents and new ideas of how to best expose Highland students to success and opportunity in order to broaden their experience and learning. In Rochelle's spare time she enjoys traveling and spending time with family and friends.
Brian Litzsey
Director
Number of Children at Highland: Two Year Joined Highland Family: Year Board Term Began: August 2019 Professional Background: Brian is the Manager of Operations/Assistant Director for the Milwaukee Public Schools Department of Recreation and Community Services. Brian received his B.S. in Parks and Recreation Administration, M.S. in Physical Education, and is currently completing an M.B.A. at Concordia University of Wisconsin. Over the past 16 years, Brian has served in various positions within the Department of Recreation. As Manager of Operations, his chief responsibilities are oversight of the Department's Finances, Facilities, Technology, After-School Operations, and Human Resources. Brian has helped foster countless collaborations with many of Milwaukee's community-based organizations, leading to greater financial and human capital resources in many under-served neighborhoods. Brian is a committed advocate for equal access to high-quality enrichment and educational opportunities for all Milwaukee residents.
Kate McChrystal
Director
Number of Children at Highland: One Year Joined Highland Family: Fall 2015 Year Board Term Began: August 2017 Professional Background: Kate is a family law attorney and mediator in private practice. Her practice focuses on assisting families in divorce and paternity disputes, acting as advocate counsel or via appointment by the court as guardian ad litem. She also assists families in resolving disputes without court intervention through her mediation and arbitration pracIn addition to work at Highland, she is an active member of the Wisconsin Bar, Milwaukee Bar Association, Association of Women Lawyers, and secretary of Leander J Foley Jr Society of Family lawyers. She has previously served on the ARCW Junior Board, ARCW Development Committee, and Marquette University Law School Recent Graduate Board.
"We selected Highland for our daughter because we wanted for her not just a school, but a community. We have certainly found that at Highland! There is no better feeling than dropping your child off in a building that feels like a warm hug – where parents, staff, and children greet one another warmly and where we exchange not just pleasantries but can openly discuss what's happening in the world around us. We know our daughter is having these same conversations with her peers and teachers all day. She is part of a community where she learns not just academic foundations, but critical thinking skills, empathy, and appreciation for diversity of all kinds. These lessons will carry her through life and can't be found just anywhere. We feel extremely fortunate that we have the Highland community to help our daughter develop these critical life foundations."
Amy Nelson Christensen
Director
Number of Children at Highland: Two Year Joined Highland Family: Fall 2014 Year Board Term Began: August 2019 Professional Background: Amy is a nationally certified and licensed school psychologist in the state of Wisconsin. She is currently a professor in the school psychology program at Loyola University Chicago where she works with the next generation of school psychologists on how to practice from a social justice lens. Prior to teaching, Amy worked for Milwaukee Public Schools as a school psychologist and researcher, supporting district-wide efforts in trauma sensitive school practices, equity, and improving school culture and climate. As a result of her efforts to establish trauma sensitive practices across the district, Amy was awarded School Psychologist of the Year in the state of Wisconsin in 2015. Amy also currently consults with community organizations across the Milwaukee community on research and evaluation of their programs that are focused on improving the lives and educational trajectories of children in the city.
"Raising our children to be global and compassionate advocates for change is very important to my husband and me. We were looking for a school that was diverse and that was also able to effectively educate all children. As a school psychologist, I also was very interested in the Montessori philosophy as I had learned that it helped to foster motivation in children to learn and build a positive sense of self. I had heard from a friend about Highland's social justice focus and Montessori program so I reached out to schedule a visit. I had just finished teaching a summer program with 8th grade students about Freedom Summer and the fight for voting rights of African Americans in the early 1960's. It was the 50th anniversary of Freedom Summer and there was a traveling photo exhibit around the city chronicling the work people in Milwaukee had done to fight for voting rights. Highland was one of the locations that had the exhibit on display. When I came for a tour of the school and saw the exhibit, I knew right away that this was the place where my children were meant to be. In addition to the calm classrooms I observed and the fantastic teachers I spoke with, the clear imagery and celebration of diversity was apparent. I was excited to become part of a community that didn't just talk about justice, but also built an environment that celebrated justice."
Sharlen Moore
Director
Number of Children at Highland: One & Two graduates Year Joined Highland Family: Year Board Term Began: July 2007 Professional Background: Sharlen Moore has committed her life to building and sustaining grassroots leadership for change. She currently serves as Executive Director of Urban Underground, located in Milwaukee, Wisconsin. A native of Montego Bay Jamaica, Sharlen immigrated to the United States with her family at the age of 6. Her commitment to youth was shaped by her early experiences with racial and economic injustice in Milwaukee.
Jean Tipan Verella
Director